Our soundproof garden studios give you the freedom to create a beautiful getaway, without compromising your home. Perfect for people looking to work away from their home or families looking for extra accommodation, or even the extra space to entertain guests in the back garden.
Having your own luxury garden building outside will give you endless opportunities to take advantage of. The most popular picks people often go for are home gyms, home offices and accommodation space for guests staying over.
During the pandemic, many people have built home offices and set up their homes as offices. It's also seen people looking for ways to either expand their homes or create a new workplace somewhere in the house. In this article, we will highlight the benefits of owning a garden studio and answer popular questions we've come across.
Contents: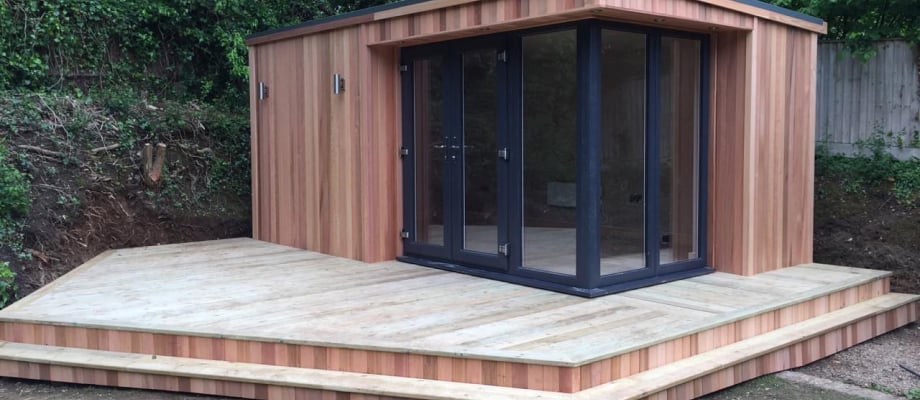 What is a Garden Studio?
A garden studio is a building in the garden, typically in the back garden, that is separate from the house. Featuring high-quality construction and materials which are designed to last, garden studios boast all-weather cladding for extra durability, large window panels which allow light in, an integrated floor for added comfort and timber features that add a natural feel.
There are many different uses that you can accomplish with a garden studio. With insulation, double glazing, electric heating and so many more features, garden studios are suitable for year-round use and even living. They're warm throughout, comfortable, spacious and offer so much for your outdoor space.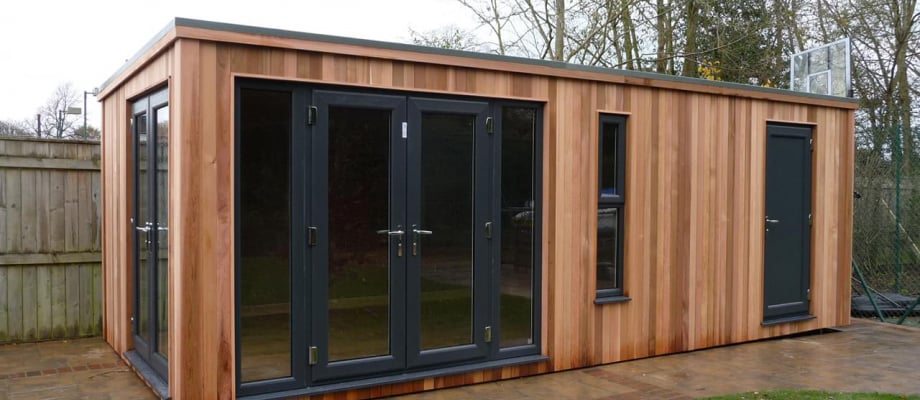 Which is the Best Garden Studio?
They're many garden studio options out there. Along with different designs, styles and materials used for the structure of the building. The first step you want to consider is to factor in your garden's layout and look at your sizing requirements first, before looking at your different studio options.
Then once you've figured out that part you can start by looking at the type of design and style you would like to consider. Traditionally, most garden studios are a classic rectangle shape and offer plenty of space inside. It is possible to get unique garden studio designed buildings, but this can become complex and may lead to hefty building costs.
Determining the best studio is solely down to your taste for design and how big you need the building. Most garden studios are typically the same layout and include the same features. Our attention to detail is vital for our customers, and all our garden rooms here at OECO are built to the highest standards. All of our handcrafted garden structures are suitable garden studio options.
What is the Difference Between a Garden Studio and a Shed?
Sheds are designed for storing garden items, such as lawnmowers, garden furniture, tools and so forth. Typically, sheds are a lot smaller in size and are not insulated.
Garden studios are designed to be comfortable, bright, airy, and insulated buildings that you can perform many more tasks. They're considered a luxury garden structure to own and bring forward lots of benefits.
The extra space allows you the freedom for an office, gym, yoga room or even a music room. Check out our acoustic solution information for more details.
Do Garden Studios Add Value to your House?
The short answer is yes, garden studios are a way to add value to your house. With our garden studio packages, you can convert your outdoor space into a viable workspace or entertainment area. This is something that will easily impress and excel in the market, and buyers would love this addition to their potential new home.
Of course, the main thing people want to hear is how much value? This is tricky to pinpoint as several other factors need to be considered as well, including the current property market.
It's said that garden studios will add at least 5% to the value of your home. Not only will garden studios offer an attraction to potential buyers, but they will also provide solutions for house extensions.
As we know house extensions can often be pricey and in some cases lead to a further expense. Garden studios instantly give your home extra space and a breathable workaround.
Here at OECO, we provide the complete package for all of our soundproof garden rooms. Meaning, you won't find issues in your newly installed garden studio which you may find further down the line, issues with your home extension.
We professionally plaster the interiors.
We insulate to comply with part L of the building regulations, we include the necessary amount of insulation in the roof, walls, and floor.
We include concrete and steel pile foundations as standard. To completely support the garden room, concrete pads and steel piles are positioned at specific intervals and bolted to the timber floor.
Traditional timber frame construction by professional joiners.
Our double air vented walls and moisture vapour barrier eliminate the health effects caused by poor ventilation, such as cold spots, condensation, high U-values, and cold spots.
Supplying the very best quality PVC-u doors and windows.
Full electrical package, range of sockets, switches, lights and heaters.
All our garden rooms are covered by a 10-year structural guarantee.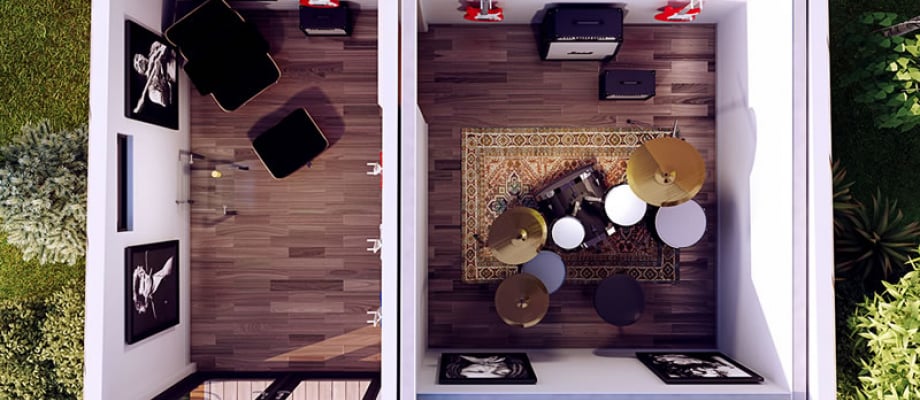 Can you Soundproof a Garden Room?
Controlling noise in or out of a room requires the use of specialist materials and acoustic solutions on all walls, floors, ceilings, doors, and windows. The total soundproofing of a building is not possible. However, we can come close to minimising sound by using careful design and the correct use of acoustic materials.
One of the key factors we carry out is the additional "room within a room" inside the garden building. This is largely considered if noise levels are going to be louder than normal. Acoustic materials are layered on top of each other inside the inner room to absorb sound.
How Much Does it Cost to Build a Soundproof Studio?
They're many methods of achieving soundproof garden studios and therefore prices will fluctuate.
If the garden studio is to suppress medium sound levels then a simple acoustic upgrade will be more than sufficient.
If the building structure is for a recording studio or performing loud noises such as drum kits, then a "room within a room" would be required to achieve minimising noise levels.
How Do You Soundproof a Garden Room?
We specialise in supplying and installing all types of soundproofing solutions. Our careful design plan and acoustic materials are layered on top of each other inside the inner room to absorb sound. Our process includes:
Upgrade all walls and floors with acoustic block insulation.
Replace the normal double glazed glass units with acoustic glass.
All walls and ceilings are fitted with acoustic plasterboards.
We also have many more stages on our acoustic solution page.
Do I Need Planning Permission for a Garden Studio?
In most cases, you don't need planning permission to build a garden building or structure outside your property.
But it's worth double-checking and asking the right people in your local area before any installation takes place. You can also speak to our team if there's any concern and we'll be able to advise further.
Our garden buildings have been constructed specifically to comply with the current planning permission permitted development requirements and building regulations.
For more information on planning permission, visit our planning permission page.
Can you put a Bathroom and Kitchen in a Garden Studio?
Yes, it is very much possible to achieve a bathroom or kitchen in a garden studio. We recommend speaking to our professional team at OECO and seeking out advice on the task at hand.
The process involves running power to the garden studio from your current mains, ensuring there's water heating, lighting and ventilation. You will also need to factor in the removal of wastewater and the supply of fresh water from the mains.
This will result in running cables under the garden from the home's mains, connecting through to the garden studio via a trench underground. It is also possible to use solar panels on your garden studio making it more eco-friendly. To deem it's possible and for the best methods, ask for advice on solar panels.
The water and drainage connection involves digging a deeper trench than normal. This may cause disruption and especially if the garden studio is far away from the home's mains. The waste will have to be disposed of via sewage, which will require connecting up to the closest one. Required checks will be carried out and will need signing off by building regulations.
It is important to install an extractor fan to avoid mould, mildew, and condensation, overall improving the ventilation.
You will need hot water in your garden studio and you will need to install a hot water tank. This is similar to your home's water tank, but you can get a much smaller tank to do the job.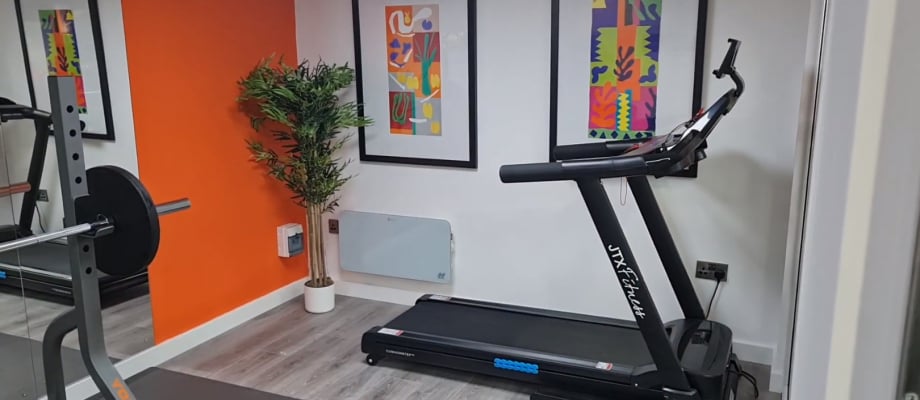 Can you put a Gym in a Garden Studio?
Absolutely! Our bespoke soundproof garden studios provide you with the opportunity to create your home gym. You can use this space to transform into your dream set up in the comfort of your garden.
The benefits of having a home gym are endless, and one of the main reasons people want their own space is to cut down gym membership costs and the opportunity to work out in peace.
What Material can Block Sound?
The following materials act appropriately towards blocking sound. Here are the most effective soundproofing materials:
Acoustic membrane
Fibreglass
Soundproof floor underlay
Soundproof drywall - plasterboard
Dense board - plywood, particleboard, fireboard
QuietFibre - mineral, rock or stone wool insulation
Resilient sound channels - timber or metal
Acoustic hanger mounts
Anti-vibration floor mats
Acoustic sealants
Acoustic wall covering & soundproof wallpaper
We hope you found this soundproof garden studio article useful. If you would like to seek out advice or simply get more information, visit our contact us page today.