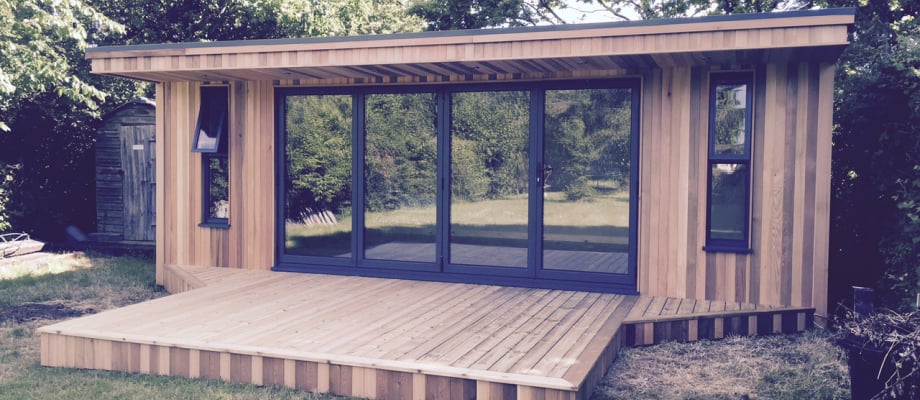 How to choose the best garden room supplier
Garden rooms come in many different formats, varying qualities and prices with can be very confusing. It is vitally important to spend a little time getting to know the differences are and what you're getting for your money.
A new garden room is a major purchase and getting the right supplier first time will ensure you get the best quality garden room whilst also saving time, effort and money. While it's easy to compare different suppliers solely on price there's much more to it.
From experience, we know the problems you need to be aware of.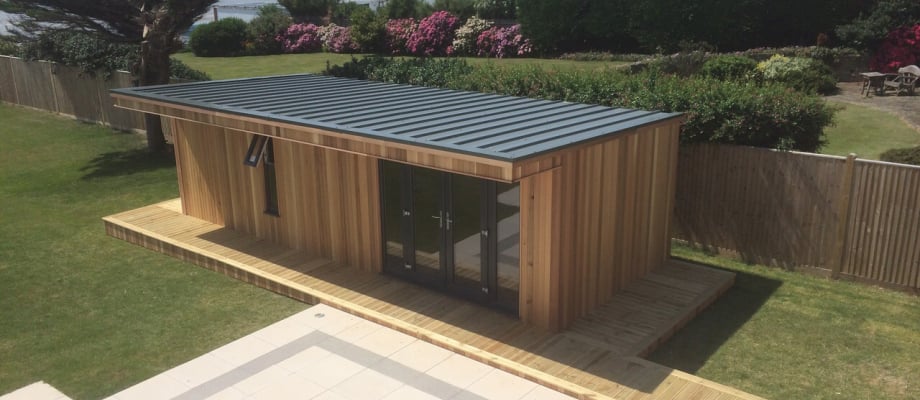 1. Superior external timber cladding
External timber cladding is the natural choice for finishing the outside of a garden room but it does depend on what quality and type of cladding is used. At Oeco all our garden rooms include the highest quality Western Red Cedar tongue and groove external timber cladding as standard.
Other garden room companies will use species such as Pine, Plywood, Feather board, Redwood, Thermowood or Larch, lasting anywhere between 10-20 years at £5-10 per sq metre. If Western Red Cedar is offered, it can be at a premium price.
At £50 per sq metre Western Red Cedar may be the most expensive option but is also the most desired due to its rich and variable colours, resistance to decay, durability and natural preservatives. Western Red Cedar timber contains its own natural preservatives that are harmful to decay-causing fungi, and so with its own natural resistance to rot it requires no additional chemicals or preservatives and a life expectancy of over 50 years.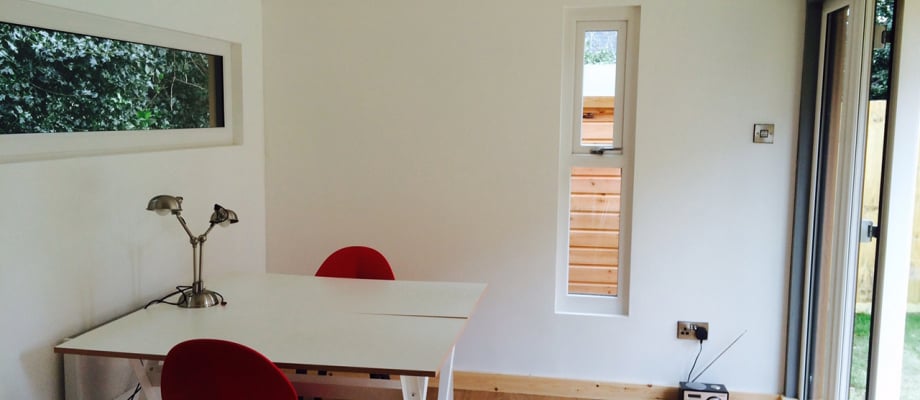 2. Luxury professionally plastered interiors
Look beyond the glossy external shots and it's easy to miss that companies might install an array of different internal finishes to the walls and ceilings, including: metal, vinyl, melamine, plastic cladding/boards.
At Oeco, we view these as sub-standard finishes, incomparable to traditional plaster boarding and skimmed walls and ceilings that goes into all Oeco garden rooms. Instead our experienced installation teams take the time and effort to provide the ultimate internal finish to your new garden room. It also adds additional insulation and contributes to improved energy efficiency, giving you a garden room finished to the same high standards as a new home.
3. Insulated to comply with building regulations
What's worse than completing your new Garden Room to find it's only habitable half the year. As Garden Rooms are not covered by building regulations it's not necessary for companies to insualte their buildings to the standards you'd expect on a new home.
At Oeco, we include the necessary amount of insulation required in the roof, walls and floor to comply with Building Regulations Part L. This results in a building with a low U-value, meaning the building is a good heat insulator and your Garden Room can be used all year round.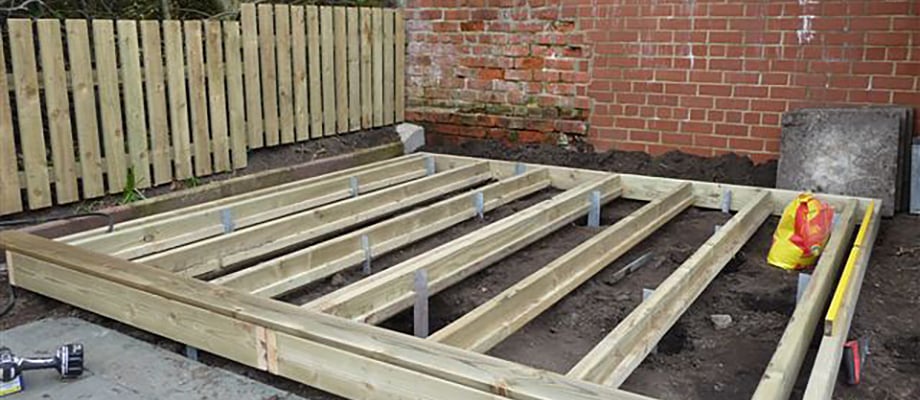 4. Concrete and steel pile foundations
Any building is only as good as its foundation system, and garden rooms are certainly no different. When choosing a garden room supplier it is very important to ask whether or not the foundations are included in the price, as not all will, potentially increasing the cost by thousands.
In addition, check the type of foundations available. Breeze blocks, pads, ground screws, timber frame or ground jacks all sitting atop the ground don't work as long term solutions as these often move over time or with bad weather, meaning your garden room will too.
Instead Oeco Garden Rooms include Concrete and Steel Pile foundations as standard and all within the price you'll see on our brochure or website. Our specialist system utilises concrete foundations with integrated galvanised steel bars and base plates. We excavate down to solid ground; a steel bar with a base plate is inserted into the excavated hole and then filled with concrete. The concrete pads and steel piles are positioned at specific intervals and bolted to the timber floor to completely support the garden room. The piles are positioned at regular intervals across the entire width and depth of the timber base.
This method of foundation system is the preferred system by county councils, especially when a garden room is to be located near to trees or shrubs.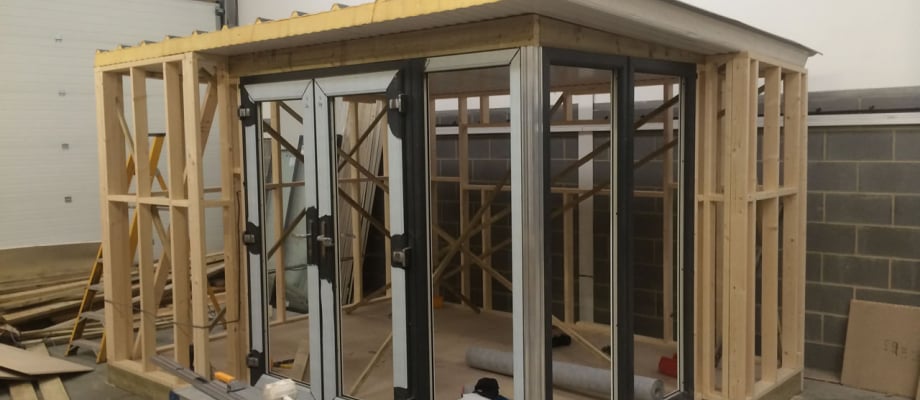 5. Traditional timber frame construction
There are basically 2 types of construction methods available for building garden rooms.
The first is a modular system: The modular system involves building the different components in a factory, which are then bolted together on site. The advantages of the modular system are a lower manufacturing cost and increased speed of assembly. The disadvantage of a modular system is that it offers no flexibility in the design and construction of the finished product, instead you're restricted to standard sizes and designs.
The second is traditional timber frame, which Oeco construct on site by professional joiners. This construction method allows you to be in total control of the design and finished structure. Though it takes longer to construct on site it allows us to create bespoke sizes and designs as well as our customers being able to decide elements of their garden room on site; a service which some other companies are not able to provide.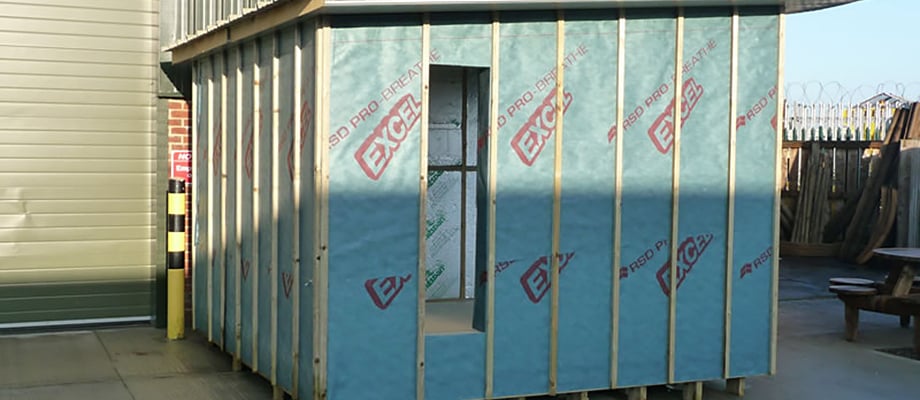 6. A breathable garden room
Something that is often overlooked by customers is the benefits of having a properly ventilated garden room. Although a garden room needs to have excellent insulation it is important to have good air flow around the structure to help it breathe.
Oeco's double air vented walls and moisture vapour barrier avoids the issues caused by poor ventilation, such as; cold spots, condensation, high u-values and health side effects.
Our breathing membrane acts like a one-way valve and allows natural moisture to escape out of the building - but prevents moisture from entering the garden room.
In addition, all our traditional timber framed garden rooms incorporate double air vented timber walls. The first vent allows air to circulate between the outer timber cladding and the breathing membrane. The second vent allows air to circulate between the breathing membrane and the internal thermal insulation panels.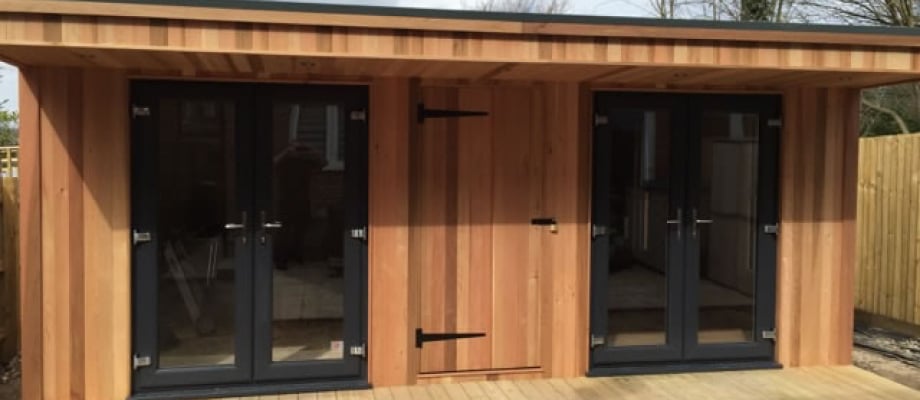 7. Premium PVC-u Doors & Windows
As the only major moving parts on a garden room it's necessary to have excellent quality doors and windows with high quality opening and locking mechanisms.
The doors and windows need to be ideal for every climatic condition and provide a cosy and comfortable atmosphere in your new garden room. Each individual door and window needs to have efficient thermal insulation properties resulting in minimum heat lose in winter and reduced heat gain in summers. The glazing is also of utmost importance for good thermal values, also contributing to a substantial energy saving.
All Oeco garden rooms are supplied with the very best quality PVC-u doors and windows manufactured by one of the UK's leading manufacturers, winners of PVC Company Of The Year in the National Fenstration Awards (A PVC-u Industry Body) in 2016. As standard all our doors and windows are supplied in Anthracite (dark grey) profiles on the outside and white on the inside. Our sleek patio and sliding patio door systems are fitted with a very sophisticated operating mechanism for ease of opening and secure locking.
All doors and windows are fitted with high security insurance approved multipoint locking systems to give your garden room maximum protection. The Pilkington double glazed glass units are a low-e glass which comes with a special coating to reflect heat back into the room reducing heat loss.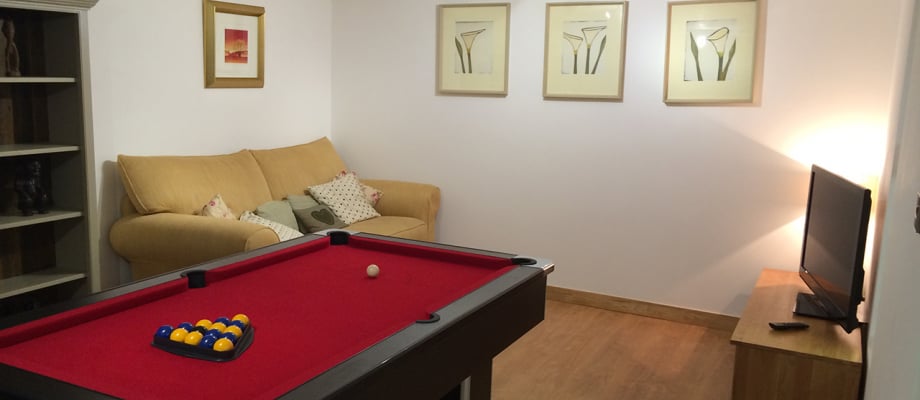 8. A Garden Room complete with a comprehensive electrics package
Undoubtedly you will require electrics, heating and lighting inside your new garden room.
Some companies may include some or all of these options but you will most likely be supplied with only the most basic electrical components available, and charged extra to upgrade to premium quality fixtures and fittings.
It's also worth noting how the electrical wiring is fitted – is it concealed inside the internal walling or simple stuck in plastic conduit around the walls and ceiling?
All Oeco garden rooms come supplied with an electrical package comprising double sockets, heating and lighting with all wiring concealed inside the timber walling and a consumer unit controlling the power.
We install a range of sockets, switches, lights, heaters. Ask us for more information about the various options available.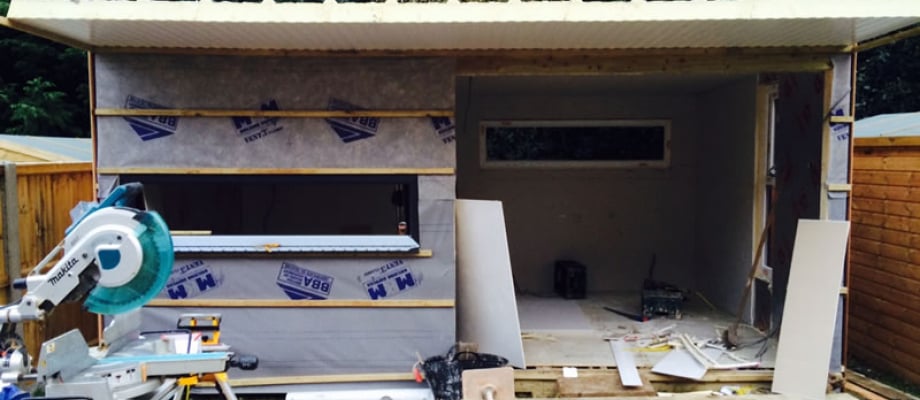 9. No hidden delivery or installation charges
When shopping for a new garden room it's always worth checking whether there might be a delivery charge as most companies will only install locally or within a certain distance of their location.
Some companies will work throughout the UK but will charge when delivering and installing outside their set location, and when delivery is charged it can vary dramatically in the region of £500 to £1500.
But at Oeco our prices include delivery and on-site installation in mainland UK. Our central location allows us to get to the bulk of the country in a matter of hours.
Our professional installation teams will stay in a local B&B during the on-site construction, working hard to deliver a quality garden room you'll never want to leave.
10. We even give a number of extras free of charge
Many garden room companies offer a basic garden room structure and advertise a seemingly good price to attract more customers. It is a very popular selling technique to show a lower price in comparison to their competition, but it's not always great for the customer.
We'd much rather provide a product that works for you rather than making absolutely everything an added extra. Obviously everything can't be offered for free, but we believe certain additional extras are required to compliment a high quality garden room. That's why, at Oeco, throughout the year we'll offer a range of added extras, free of charge, as an added bonus for our customers.
Our reputation has been built, above all, on the quality of our garden rooms and our commitment to exceptional value for money. It's what our customers want, we believe honesty and transparency is always the best policy.
11. 10 year structural guarantee as standard
For most people, buying a new garden room is a major purchase. It's no wonder, then, that buyers of garden rooms are interested in a guarantee.
Most garden room companies will offer some form of guarantee varying from 12 months to 10 years. It's important to choose a company that offers a long term guarantee rather than the statutory 12 month guarantee protection provided by the Consumer Rights Act. Be wary of any company that does not offer any form of guarantee.
At Oeco Garden Rooms we believe our customers deserve the very best so we only source high quality materials and use excellent craftsmanship when creating your new garden room.
For total peace of mind all our garden rooms are covered by a 10 year structural guarantee. This covers design and manufacturing faults, material failure, corrosion and rot for a period of 10 years from the date of installation. In addition to our building guarantee we will pass on all manufacturers' guarantees for items including: doors and windows, electrical components and any optional extras.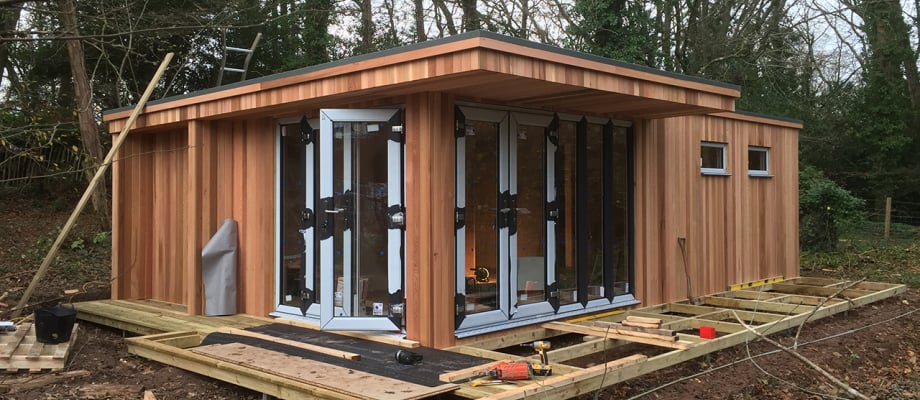 12. Construction within permitted development rules
Outbuildings are considered to be permitted development, so while not needing planning permission they're still subject to certain limits and conditions. The planning permission page has further details.
Conditions we do have to follow are in regards to height, size and distance from your boundaries. Be wary of any company stating they will build very close to or on your boundary line, attached to your property, in your front or side garden or in any location just to obtain a sale. In the end the owner of the property or land is responsible for complying with the relevant planning rules. If the planning rules are not adhered to you will most likely end up having disputes with your neighbours, the local planning department and run the risk of having to remove the garden room at your own expense.
All Oeco garden rooms have been specifically designed to meet the requirements of the current planning permission permitted development rules and building regulation requirements.
Our garden rooms comply with the 2.5m maximum height requirements. Garden rooms up to 15m2 internal floor area (5.5m x 3m) are installed 0.5m from any boundary. While garden rooms over 15m2 internal floor area (5m x 3.5m) and up to 30m2 (8m x 4m) internal floor area are installed 1m from any boundary.
Not all Garden Rooms are built the same
No matter which garden room company you eventually choose to supply your new garden room all we ask is that you take some time to read the specifications and details of what you're actually buying. If ou can't find an answer to a question you have, ask!
We are the only garden room company that actively asks potential customers to compare specifications and pricing.
Why do we do this? Quite simply we monitor all our competitors and from detailed research we know we provide the best garden rooms with the best specifications at the best price!