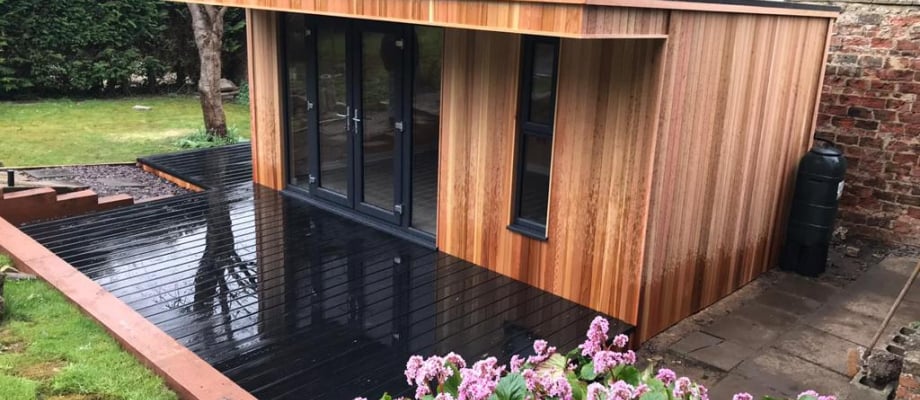 Garden Rooms and Planning Permission Simplified
The great news is that in most cases garden rooms or garden offices do not need planning permission. This is because they are mostly classed as outbuildings - similar to sheds or garages.
But before you rush off to design and order a garden office, it's worth checking a few things first - as the rules can be a little bit greyer depending on where you live, the type of property you own and whereabouts on your property you're intending to build.
Nationwide, many of the regulations around planning permissions for outbuildings date back to 1948. The rules are as follows:
You cannot build a garden room, outside office, or log cabin in front of your home. If your house dates back to 1948 or before, then "the front" refers to the state of the house in 1948 - so if you have extended the property you will be allowed to build in front of any extension.
All outbuildings (including existing sheds and garages, as well as any garden room you are planning) cannot cover more than 50% of the land around your house.
The eaves of your garden office can't be more than 2.5 metres above ground level.
You aren't allowed to build a veranda, raised platform or balcony into the outbuilding.
It can't be classed as self contained accommodation
So those minimal rules apply pretty much across the country and most suppliers and builders of garden offices will already design their buildings in line with those regulations anyway.
However, there are a few extra rules which apply under certain conditions:
National parks and Area of Outstanding Natural Beauty
As you can imagine, building an outbuilding in a heritage site involves extra regulation. If your planned garden office is more than 20 metres from your house, its maximum size is 10sq m in a National Park or World Heritage Site.
Also in these areas, you'll need planning permission for any outbuilding or part of it will be sited between the side of your house and the boundary.
Outbuildings for listed buildings
If you live in a listed building of any grade, then you're probably fully aware of how many restrictive planning regulations there are regarding any kind of change to your property.
If you want to build a garden office, you will need planning permission for any such building that lies between your house and the boundaries of your property.
How close can I site a garden room to my boundary?
There are no specific regulations about where a garden room can be built around your house, so the short answer is: anywhere on your property. However, general building regulations recommend that any outbuilding is at least a metre from your house, unless it is built from a non-flammable material.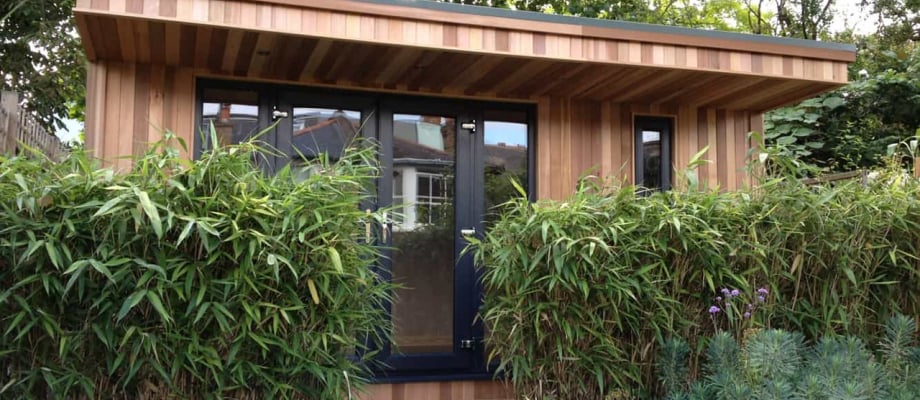 What is the maximum height you can build a garden room without planning?
Any outbuilding can only be single storey, and must not be taller than 3 metres high - unless you intend it to have a dual pitched roof, in which case you can build to a height of 4 metres. A dual pitched roof simply means a roof that slopes on both sides - many garden buildings only having a single slope.
Talk to us today about our selection of roof options to meet all planning requirements.
Do I need a concrete base for a garden room?
Technically, you don't need a concrete base for your garden office. Most builders however would recommend them on practical grounds. Concrete bases do not rot, can be made very level with a minimal risk of sinking or sagging, and can easily support the weight of outbuildings - that can often weigh 2-4 tonnes.
If you are ecologically minded, you might want to consider the newer environmentally friendly method known as ground screws. As their name suggests, these are very large screws which are literally screwed into the ground using a special rig. At the surface end, they are capped with a large, flat metal platform. A garden outhouse can be safely and securely built on these with minimum waste and a much easier installation than building a concrete base.
We've been fitting garden rooms for many years - with and without concrete bases. Talk to us to find out which option is best suited to your needs.
How long will a garden room last?
With the inclement, ever changing weather we have in the UK, you might expect that garden rooms might have a relatively short life. However modern materials and building methods mean you can reasonably expect your garden office to last for decades.
While they can be built from untreated timber, most outbuildings can now be made from pressure injected wood. This is where waterproof resin is pumped into wooden panels - making them practically impervious to rain.
Many manufacturers will offer a 10 year guarantee against any defects in the building itself, but many will offer much longer warranties against weather damage.
All of our garden rooms come with different levels of guarantee according to usage and materials used.
Do garden rooms add value to your house price?
While house prices are affected by wider matters around the economy, interest rates and the area in which you live, a garden room or outside office might raise the value of your home by between 5-15%, depending on its size, style and use to a potential buyer.
A much used figure states that the value added to your home will be one and a half times the cost of the outbuilding itself - making it a very sensible investment.
As creating an outdoor room or garden office is considerably cheaper than other forms of house extension such as a loft conversion, and mainly don't require costly architectural drawings and planning permission, they can be a great way to increase the value of your house - especially if you have a large garden.
If investment value is a consideration for you, our experts can talk you through what you need to do to get maximum return on your garden room.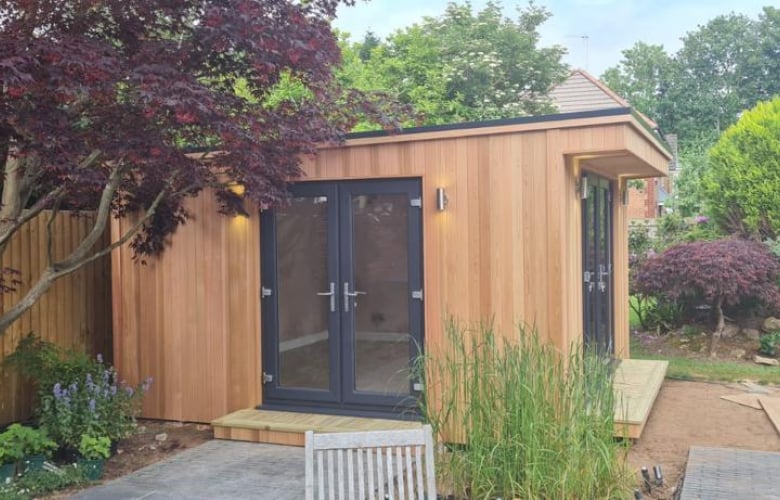 Is a garden room/office a good investment?
As we've discussed, a garden office or garden room can certainly be a relatively good investment from a financial perspective: adding up to one and a half times to of its building costs, or as much as 15% to the value of your home overall.
But beyond financial incentives, it's worth remembering that your garden room is more than just about money. If you run a business from home, it is an office that can save you hundreds of pounds every month in professional office rental. And when the working day is over, a well designed room can double as a room to entertain visitors - or even as an ad hoc spare room for overnight visitors.
In the longer term, if you've built a garden room as an office, it will still be there should you need to move to bigger premises or decide to work in another field. That leaves you free to modify the building for other purposes - such as a summer hour, utility room or games room.
Whichever way you look at it, it's hard to find a downside when it comes to thinking about a garden room as an investment.
With many styles, shapes, sizes and materials today, we can help make sure that your garden office is a great investment.
What electricity supply do I need for a garden room?
You don't actually need an electricity supply to your garden room, but if you plan to use it as an office, or have lighting and heating installed then obviously you need to have your building hooked up to the power.
You will need a properly armoured cable to run from the mains electricity in your house to your outbuilding. It's best to have this run underground to a unit in the outhouse itself. Obviously it isn't recommended that you do this yourself, as a qualified engineer should do this to make sure it complies with Part P Electrical safety work regulations.
The good news is that although this is a specialist job, it is a relatively minor matter and shouldn't impact much on the cost of your garden office.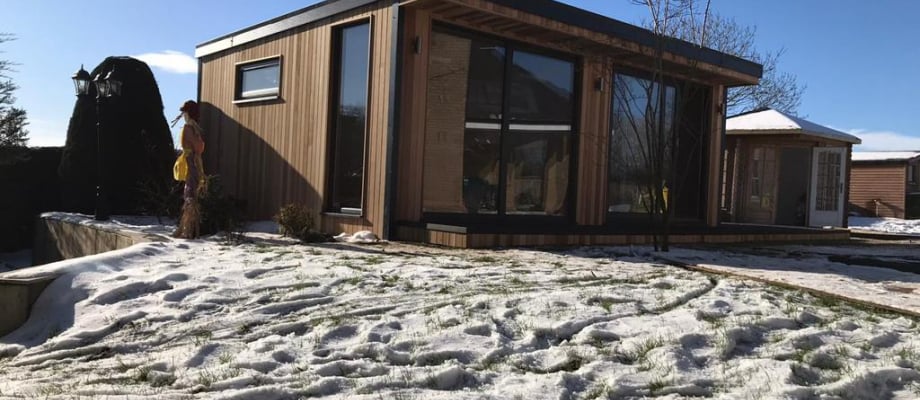 Why is it important to have a properly insulated garden room?
Your garden room will not have walls anything like as thick as those of your house. This means it will be much more prone to the effect of the outside temperature. Without proper insulation, your garden room might be freezing cold in winter.
If you have many or large windows fitted in your garden office, heat will build up rapidly in the summer: and with the whole building effectively acting as one enclosed room that means your office can heat up pretty quickly. Bearing this in mind it's important that you have your garden home both properly insulated and ventilated.
Some ventilation is easily provided by having windows that can open (as well as the door) but proper insulation is more integral to the building of the garden office itself. You might be surprised to learn that insulation keeps heat both in and out.
Like your house, insulation is normally fitted in cavities in both the walls and roof of. It comes in various flavors, from the type of soft fibre glass you might have in your loft, through to rigid insulation boards that are fitted to the structure.
The measurement of how well the building is insulated is conveyed through a number known as the 'u value' - which you should see on your building's specifications. The higher the u value, the greater the insulation.
Don't mistake thickness of walls for insulating value. Some thin walls can offer much higher insulation than thicker walls, depending on the type of material used and the method of construction - so look out for that u value!
We are experts in garden rooms, and have every kind of option available to insulate your garden room. Please call or contact us today to find out about what materials are available and which is the best choice for your garden office.