All our prices include the complete on-site installation by our own professional construction teams. Each Oeco garden room, office, studio or lodge is installed typically within 7 working days and normally without the need for planning permission.
From foundations to building construction, interior fit and electrics, we provide the complete package at a fixed price. All we ask is that the site area is relatively flat and unobstructed - we take care of the rest!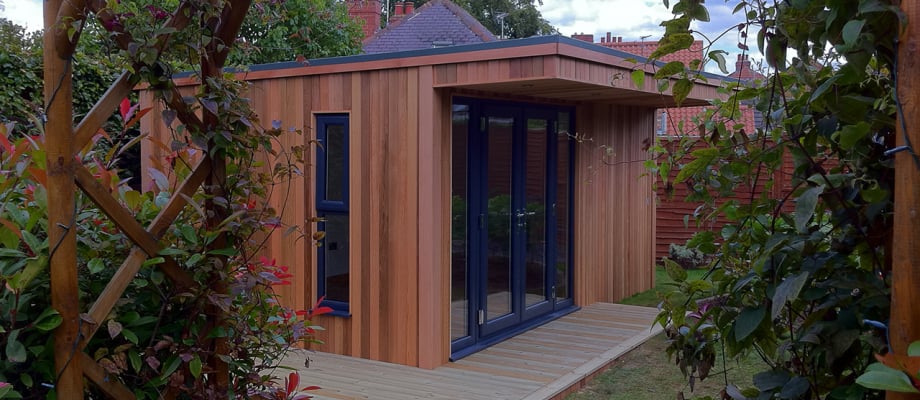 Permitted Development
Our garden buildings are installed under the governments permitted development rules. In brief the building must normally be installed in the rear of your garden and must not take up more than 50% of your total garden area.
Planning permission would be required for those customers living in A National Park, An Area of Outstanding Beauty, A Conservation Area, The Broads and A World Heritage Site.
For additional information on planning please refer to our planning permission page.
Location To Boundaries
Garden Rooms, Offices, Workshops & Soundproof Rooms
Single pitch roof 2.5m high structures under 15m2 (e.g. Up to 5.5m x 3m) are required to be sited at least 0.5m from any boundary.
Single pitch roof 2.5m high structures over 15m2 (Above 5m x 3.5m) are required to be sited at least 1m from any boundary.
Garden Lodges Only
Apex roof 4m high structures any size are required to be sited at least 2m from any boundary.
Planning permission would be required for those customers living in A National Park, An Area of Outstanding Beauty, A Conservation Area, The Broads and A World Heritage Site.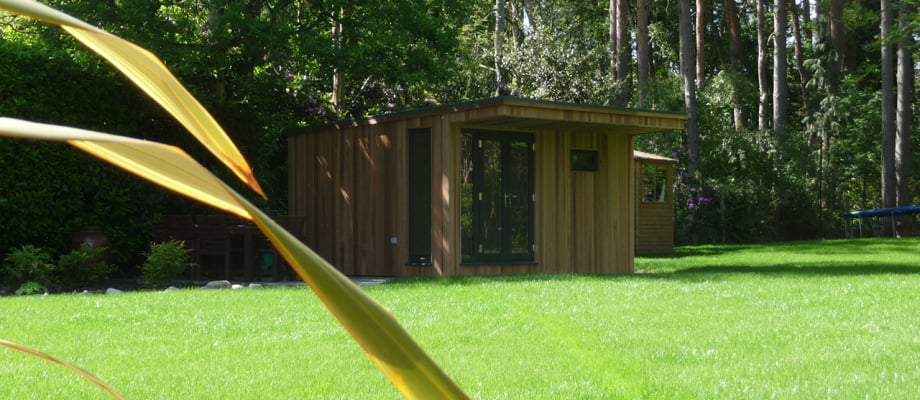 Free Site Survey
Our free site survey will establish the site conditions before the installation team arrives on site. In order to construct your new garden building on site we need the construction area to be clear of any sheds, trees, rocks and shrubs etc.
The ground on which the structure is to be built must be relatively firm and not slope more than a foot within the dimensions of the building.
Our standard prices include the cost of installing a concrete pile foundation system which is suitable in 99% of all installations.
Book your Free Site Survey.
Site Access & Parking for One Large Van
The installation team will require parking at the property for at least one large van. The van needs to be parked fairly close to the construction area for the duration of the project. Unrestricted access between the vehicle and the actual construction site is important.
We cannot transfer materials through a very tight alleyway which twists and turns or has a height restriction of 2.0m or less.
The installation team will be booked into local accommodation during the construction process and will stay with you until your garden structure is completed.
Deposit & Order Confirmation
Once you have decided upon the garden building size, design, type of doors and windows and any additional options required please contact us to place your order. Our sales staff will happily advise you on all aspects and provide you with any additional information that you may require prior to ordering.
Upon receipt of an order we require a 50% deposit of the total order value. Please note this is a fully 100% refundable deposit should you cancel the order prior to the installation start date.
Once the deposit has been paid a receipt and order confirmation complete with an installation start date will be provided.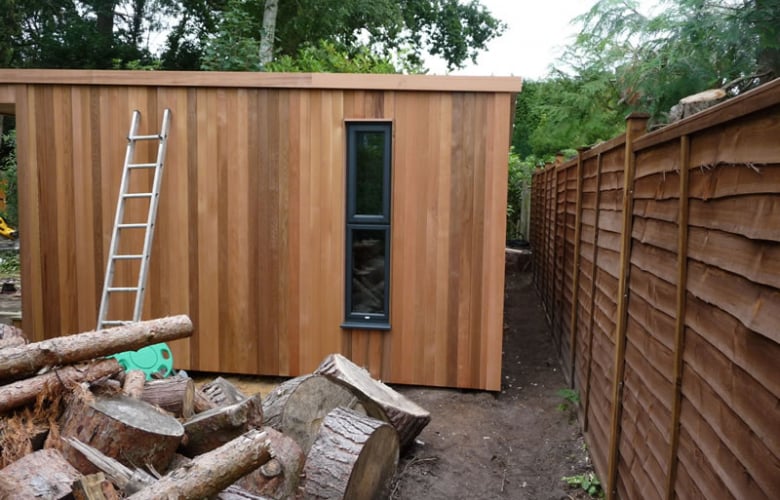 Installation Start Date
The installation team commence construction on a Monday.
Our fitting teams cover the whole of the UK and will normally arrive at your location in the early afternoon on the first day.
The teams will be booked into local accommodation and arrive early each morning and often stay late on an evening.
On the first day the team will discuss the exact positioning of the building in your garden, unload the necessary materials to the site area and start to prepare and install the concrete pile foundations and garden building timber base.
Totally Bespoke Construction
Each installation team is very experienced at constructing all types and sizes of garden buildings and have many years experience. During the construction the team will consult with you at every stage of the build.
Our on-site construction process is totally bespoke in that you will be able to choose the exact location and position of any doors, fixed glass panels, windows, electrical sockets, lighting, switches and any additional options such as internal walls, partitions and doors.
Our build process is very flexible and allows you to make important decisions on site without worrying about them beforehand.
Inspection & Completion
Once completed the installation team will tidy and clean the garden building and remove any debris and excess materials from the site area. They will ask you to inspect the garden building and check all aspects before leaving the site.
On completion of the garden building the balance payment will become due.
Our fully qualified electrician will then call to test the internal electrics and provide an electrical certificate in readiness for a mains electrical connection from your house to the garden building.
You can either choose your own electrician or alternatively after our site survey we can provide you with a quote to carry out the electrical connection works for you.
If you have any specific questions or queries regarding our on site installation service, please do not hesitate to Contact Us.