People typically tend to stray away from their gardens when winter hits. Your garden doesn't have to go through this process, especially when your garden can look like your very own winter wonderland! Building this wouldn't even need much of a planning process.
Mastering your garden can easily be achieved. Here we have the most perfect and ideal winter wonderland for your garden.
Garden Layout
Your garden needs to be flexible for both summer use and winter times. Planning out the right layout for your garden is important, the idea is to highlight the different times of the year.
For summertime the flowers will be brought out naturally, whereas, in the winter time, the plants will begin to die off. In which, you don't want to be showcasing an empty dead garden.
Building and gaining structure, add in walls or hedges. Another great source when retaining your garden structure is raised up flower beds. They uplift and bring to life the garden, highlighting certain areas of the garden for activities and can serve different times of the year.
Bringing out colour to your garden
When summer arrives, flowers tend to explode in an array of bright and colourful blooms. This delivers bright and beaming colours to the garden. Summertime is all about making the use of the weather and also making the most out of your garden. You want to be able to invite in and welcome family and friends to your garden.
But what about when winter strikes? How do you achieve what your garden can pull off in the summer? Showcase seasonal colours such as red and white, the Hellebores are a great choice. These flowers are known for the Christmas rose, displaying pastel pink and white in colours.
They produce large leaves that will certainly fill in the spaces into those empty looking areas in the garden. The lifespan for the Hellebores are fantastic, they last a long time, ranging between late winter and early spring.
Next on the winter list is the Clematis Jingle Bells. These types of flowers have a bold white colour and typically flower from December to January. Clematis Jingle Bells can grow up to five metres tall. They will need some clipping to keep the size down.
Fir trees are a winter essential, perfect for leading up to Christmas. You can be creative and decorate the tree with lights, this would present a Christmas theme. These fir trees look fantastic when it snows, they naturally blend in with the weather, giving it a true winter feel. They are low maintenance, saving you your efforts, however, do keep an eye out for a small fir tree when contemplating on getting one, as they can grow up to an incredible 80 feet tall.
Holly trees hand out a festive touch for your garden. Much recommended are the male bushes, they're very stylish and these are the ones that contain red berries. If you can't simply in place one into your garden due to spacing issues, then why not opt for a cotoneaster horizontalis or pyracantha? They really pop colours and are a great choice when elevating your garden's edge.
The winter scent
Witch hazel is a great choice as it delivers a wintery trace of scent to the garden. Showcasing its large yellow flowers in which releases a lovely smell of liquorice into the air. Winter honeysuckle is also a good choice as it produces a lemony fresh scent.
For those who want an evergreen shrub that has little maintenance, then sarcococca is a perfect fit into the garden. This is known as the Christmas box or sweet box, sarcococca produces small white flowers with a luxurious, leathery greenery and best of all it exudes a fragrant honey scent during the winter.
Decorate your wonderland
So you're almost there with your very own completion of a winter wonderland. So what are you missing? It wouldn't be successfully complete without extra decoration. If you've in placed lights on your fir tree then why not span it elsewhere?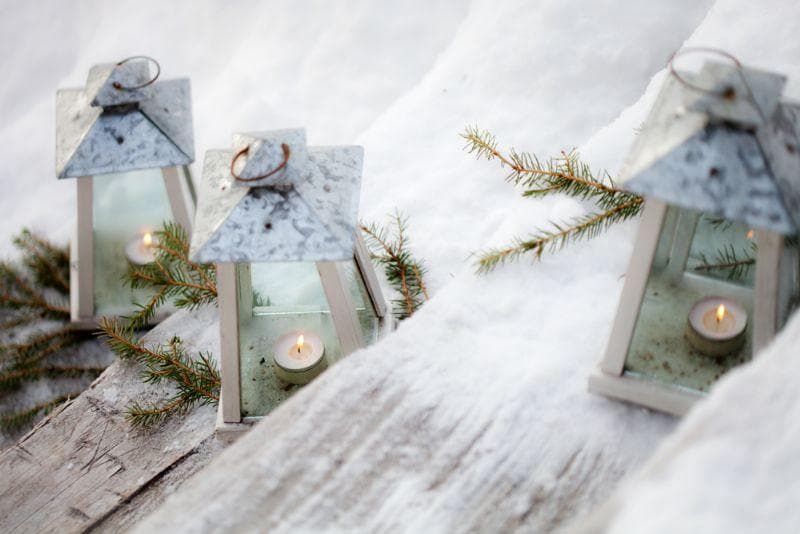 Fairy lights and lanterns are a great way of creating a stunning visual, they can be hung on trees, draped over bushes or hung from already positioned structures, like sheds, garden rooms or any decking.
If you are on a budget, then sticking to it will be no problem, as you can have festive ribbons tied to tree branches, hanging wreaths around the garden and decorating trees with baubles and tinsel.
Build a Fire Pit
Winter is cold, given. But your garden shouldn't be, some people avoid gardens during the winter times because of this. Include heat and eliminate the reasons for avoiding the garden. This can easily be achieved when setting up and arranging into your garden. Also, this is affordable.
They're chimera's or patio heaters, these give out great heat for those cold winter days and nights. You can easily build your own fire pit, this is a cheap way for the whole family to gather around, enjoy and to embrace the garden's feel.
Attract Robins to your garden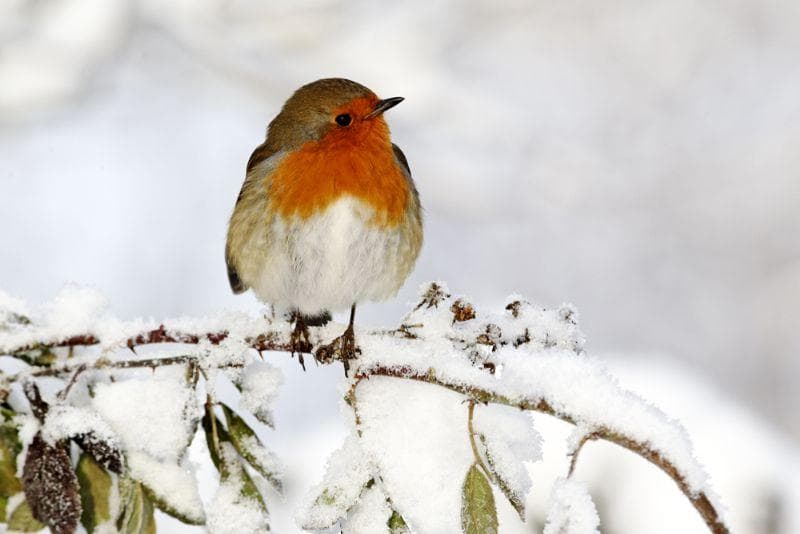 When getting the feel for Christmas you'll display/hang up decorations of all sorts, snowman, santa clause, festive birds, the list goes on. If there is one bird that evokes a winter wonderland, then it's a robin redbreast.
Leave out food for all birds, robins will often come when other birds are around, black sunflower seeds and seed balls are ideal when attracting various species of birds, but be sure to avoid dried lentils as only certain birds can eat them. Robins are also fond of crushed nuts so placing some on a bird table is sure to get them knocking.